Welcome to Independent Laboratory Supplies
Welcome to Independent Laboratory Supplies
We are an experienced global supplier of end-to-end mine site laboratory solutions. We can take care of all your mine site laboratory needs, from laboratory design and installation, through to the supply of laboratory capital equipment and day to day consumables - no matter where in the world you are located.
Our key difference is that we're independent and privately owned which means we can supply to any customer, anywhere in the world
Latest News
September 2018

ILS successfully completes installation and commissioning of site-specific containerized laboratories

in Guinea, West Africa.

From inception, to design / modelling, equipment, supply and installation, ILS has been pleased to work on behalf of the client, to produce a first-class facility in the region.

ILS continue to work hard for best results for our clients worldwide, often in challenging conditions and look forward to our upcoming projects.
---
September 2017

ILS Americas at the CMA in Kamloops, British Colombia, Canada

The ILS team were at the recent 49th Annual Canadian Mineral Analysis Conference in Kamloops. Our team were happy with the general upbeat vibe of this conference and were pleased to introduce clients to our new fully stocked warehouse in Sudbury, Ontario.

Patricia Chia, from our Australian office was also over to lend a hand, and met with some of our longstanding clients.

Tim Elliot made a presentation on the advantages of Leachwell / PAL machines for relevant mining and production applications, which was well received.

We look forward to following up and servicing our Canadian client's requirements.




---
21st February 2017
WE HAVE MOVED!

ILS has moved to new premises at
1 Darlot Road, Landsdale
Western Australia, 6065

Our postal and contact details remain the same.
The ILS team are excited by the move to newer, larger and more
streamlined offices and warehouse. The new ILS Headquarters!

PDAC March 5th – 8th 2017

Once again ILS will have a booth in the PDAC conference in Toronto.
We are at booth 1145 in the Trade Show South Hall.
ILS will be have representatives from both our Australian and our new Americas team
On hand, so please feel free to come down and discuss your laboratory needs, or just to say hello.
We look forward to seeing you there.






ILS Americas at Vancouver Round up - January 2017

This is the first year ILS has had a stand at the AME Roundup.

The new ILS Americas office was represented at the Roundup by Tim Elliot and Leslie Clark.

There was a positive reaction to ILS opening up its Americas office as well as some general

"good feelings" toward the year ahead in our industry.

New ILS Americas Office - January 2017

Independent Laboratory Supplies is pleased to announce the opening of Independent Laboratory Supplies Americas Ltd, which will provide our existing services to mining companies within North, Central and South America. Our new office will provide and distribute laboratory equipment, reagents and day-to-day consumables within the Americas from our warehouse in Ontario, Canada. The new office will also offer laboratory technical services which includes laboratory audits, technical evaluations and onsite laboratory design and construction. ILS Americas will be led by our General Manager, Leslie Clark who is based in Sudbury Ontario. Leslie's contact details are leslie.c@indlabsupplies.com

March 2015

ILS has had its first display booth at this year's PDAC conference in Toronto.

This is the first year for ILS to have had a booth at the PDAC and were lucky enough to be situated
in the new trade area in the North Building. Our revised logo and new marketing material was on full
display and the 4 guys on the floor were kept busy with a consistent stream of enquiries.
The general mood was very buoyant, despite the industry somewhat subdued at the moment.

ILS look forward to display at this event again in 2016.



SEPTEMBER 2014
STARS PERFORMANCE
ILS recently modified its brand. Using the previous brand as a basis, a more modern and descriptive was developed. ILS Director Martin Saunders said, "we've also developed a values system called STARS, which tells our customers exactly what we're about – Service, Teamwork, Accountability, Results and Safety."
MAY 2014
TOWARDS ISO
ILS continues on its path towards ISO 9001 Certification. ILS Director Andrew Bairstow stated that "…certification of ISO 9001 is an important step towards Global recognition for ILS. We will continue to go down this path and update customers with our progress."
MARCH 2014
GUINEA INSTALLATION A SUCCESS
ILS completed the installation and commissioning of a full sample preparation facility in Guinea, West Africa. The facility was specifically designed for iron ore exploration sampling at a volume of 300 samples per day. The ILS chemist and electrician attended and oversaw the installation and commissioning of the facility. Being completed on time and on budget resulted in a very satisfied client.
FEBRUARY 2014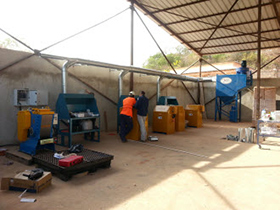 INDONESIA CONTAINERISED FACILITY..
ILS completed the installation of a containerized sample preparation facility in a remote facility in Indonesia. The exploration based facility consists of a twin 40 foot container style arrangement catering for bulk milling and the production of 300 samples per day.
The containerized laboratory was built in the ILS warehouse in Western Australia, before being shipped to site. Logistics in this instance were a challenge, given the remoteness of the site and the lack of quality infrastructure, but ILS was able to complete its task as engaged.